Hello Everyone!
I thought it might be an idea to let you all know how our scan went!
We had it last Friday in the afternoon and it was wonderful. Whilst we were waiting to be seen I started to feel quite nervous, Phil was ok though! Ha ha. Then we were called in, I got on the bed/ couch thing and prepared myself for the cold ultrasound gel. I don't know if they have changed things, or if it had been in the sun, but it was hot! It threw me off a bit!
After about a second there was the wonderful image of our little miracle baby on the screen, heart beating away and looking perfect. The sonographer then proceeded to check everything was in the right place, brain, heart, spine, kidneys, legs, arms etc... We then listened to our baby's heartbeat, which was beating away at 167bpm! Madness!
Dave was moving about the whole time, we could see his/ her arms and legs waving away, it was so beautiful.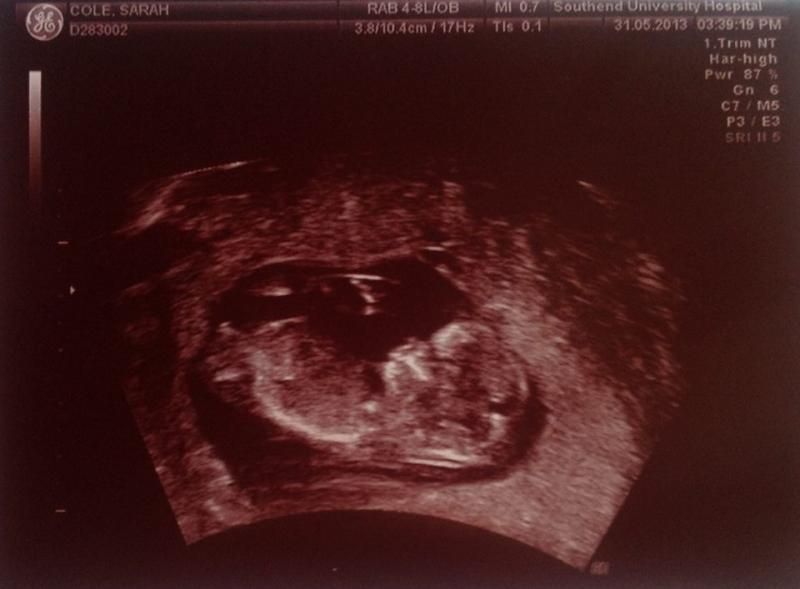 The sonographer then put our dates back by 1 day, so we are now due on the 10th December, my friend Lauren's birthday!
It was then time to check Dave's probability of having Downs Syndrome, this is done by measuring the liquid that is behind his/ her neck. Our measurement was 1.7mm, which is a good size, but I have also had a blood test which will be combined with the measurement result and give us a percentage as to whether Dave will have the condition or not. I expect we will get the results in a few more days.
After the scan we went to Mothercare and ordered Dave's crib and mattress, and got a few things to help me be more comfortable. It was really exciting to be able to go into Mothercare and actually order something for us and our baby!
Then when we got home we told the world about our miracle via Facebook. The response we received was amazing. We are so lucky to have such a wonderful support network or friends and family. Dave is going to be the luckiest baby in the world, Phil and I love him/ her so much already...
So now it is just up to Dave to keep growing and getting bigger and stronger, 3 weeks now until my next midwife appointment, and the 4 more weeks after that until our next scan?!
It is going so fast, but I for one am loving the ride...
Take Care All x